Winco System 3022 / 4022 / 5022 / 6022
products > electronically-controled dispensing centres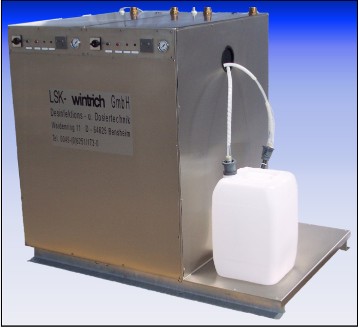 3000 / 4000 / 5000 / 6000 l/h pipe isolated
Accordant to DIN 1988 and the worksheet W 503 from the DVGW (German Association of Water and Gas) compact model.

The adjustment charge between 0.25% and 3.0% for continuous and constant adding of disinfectant solution concentrate to the tap water. As a central supply station it affords an economic supplement from the disinfectant solution tapping.

Application areas:
Hospitals, industry, swimming-pools, laundries, animal and food areas, test animal culture institutes, laboratories, sewage works, and waste discharge units.

BAM DDE 18

Concentration:
Adjustable for the most common, water soluble disinfectant solutions and cleaning concentrates.

Adding:
Adjustable from 0.25% to 3.0%.

Construction:
Robust, easy to maintain and to operate, long-living.

Shut-off:
Automatically shut-off when disinfection solution concentration shortage.

D010352
D010360
D010365
D010370

Disinfectant solution dosing unit at a system construction as:
Fabrikat LSK-Wintrich 3022 - 3000 l/h, 6,0 bar
Fabrikat LSK-Wintrich 4022 - 4000 l/h, 6,0 bar
Fabrikat LSK-Wintrich 5022 - 5000 l/h, 6,0 bar
Fabrikat LSK-Wintrich 6022 - 6000 l/h, 6,0 bar

In general consisting of:

2 pipe isolators as DIN 1988 and worksheet W 503 from the DVGW as a plastic seal housing,
free water inlet per magnetic valve above level-controlled, safety overflow and dry run
safety for booster pumps.

4 rotary pumps for pressure increase until 6.0 bar shut-off pressure 400 V, 50 Hz, rating 1.1
kW, 3.2 A, 2,900/minute, type of protection IP 44

2 contactors for quantity based tap to control the metering pump

4 metering units as reciprocating plunger type pumps with disinfectant solution resistant
parts, 230 V, 50 Hz

2 TÜV certificated diaphragms pressure box with prestressed butyl diaphragm, total capacity
2 x 8 litres

2 VDE proofed plastic control boxes with control electronic for level controlling and
supplement dosing of the disinfectant solution

2 plastic suction tubes with seal cone foot valve to tap disinfectant solution from the barrel

1 complete piping of the equipment made of none corroding material

1 double stainless-steel box, material 1.4301, grounded with a collateral parking space for
supply concentration

Instrument panel:
Control switch: off - on
Manometer: 0 - 10 bar
Hour counter: four-digit

Signal lights:
Ready to use: green

Concentrate (reserve): yellow

Concentrate (empty): red

Motor fault: red

Housing dimensions:
L x W x H = 1000 x 800 x 1180 mm

dimension sheet M 172

Connections

Disinfectant solution tapping: 2 x R ¾"

Water inlet: 2 x R 1"

Safety overflow: 2 x R 1 ¼"

Electric: 5 x R 1,5 "

Weight: 180 kg approx.
1 set operation and service manual

Accessories if requested (not included in our delivery)

1 first filling: 25 l barrel capacity (not part of our delivery)
1 second filling: 25 l barrel capacity (not part of our delivery)

D010395

1 remote signaling to ZLT (special equipment on request)

Delivery terms: ex work, excl. packing
Delivery period: 2 - 3 weeks approx.
Payment: 14 days 2% discount, 30 days net

D900010

Installation and operator training is carried out by LSK-Wintrich staff. The guarantee period is
controlled by legal regulations. Equipment is supplied in accordance with the general terms
and conditions of LSK-Wintrich. Assembly, connection and filling are not included in our
contract of sale. Maintenance contract as per BAM guideline from 1978; price per
maintenance on request.

Note:
Please install into the extraction line a sample outlet valve!