Water-Reservoir-Supply WV 14 without disinfection
products > pipe isolations as per DIN 1988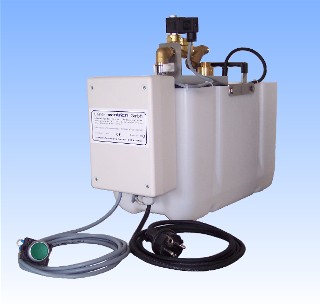 Micro-processor controlled equipment to prevent microbial contamination of the drinking water.

Operational area: medicinal technical area
Application: until 6.0 bar = PN 6 bar

Operating

By an air gap clearance water is filled into the water-reservoir-supply. It works automatically per a special valve which coeval regulates the water. Per operating the start bottom approx. 6 litres are supplied from the water-reservoir-supply.

DVGW (German Gas and Water Industry Association) certificate: DW-0402 AU 22 99

Operation areas: hospitals, care homes for the aged, laboratories.


D010380

Water-Reservoir-Supply WV 14 without disinfection

Principal components:

1. plastic box
2. stainless-steel pump (type Optima material 1.4301)
3. Magnetic valve
4. water level control by probe
5. micro-processor control in a plastic box

Technical data:

Electronic connection: 230 V / 50 Hz / 6 A
Electronic power: 0.35 kW
Releasing rate: 6 litres per flush

Supplement of the electronic parts: 12 Volt

Connectors to be supplied by clients:

1 push socket
1 ½" tap with hose connection

Oversight functions

light: function

blinks: water amount not sufficient

continuous light: unit ready for water removal

blinks fast: water overflow active, error